Instant On-Site Photo Printing at your Event!
Welcome to "thePhotoBus" - The Uk's Largest Event Photography Vehicle!
The "PhotoBus" is currently the Uk's largest specially designed Event Photography Vehicle on the road.

At just over 29ft long and featuring the very latest Event Photography Equipment, it is capable of producing upto 3,000 photos an hour and is totally self sufficient; it even has its own clean power system on board for operation anywhere.

The equipment on board is capable of printing photos just seconds after being taken, so the customer can have their print in under a minute!

Equipped with Wireless Technology and using the latest Nikon Digital Camera Equipment means that images can be sent back to the Photobus for printing in seconds.

The Photobus at Old Trafford Manchester providing
on-site printing at the X-Factor Auditions
The Latest Hi-Tech Professional Equipment
The PhotoBus is furnished with sophisticated touch screen equipment that includes the very latest Mitsubishi Photo Processing Equipment and bespoke software, which also allows customers to choose their own images prior to printing. The PhotoBus even supports Wireless Photography and has full Internet access (subject to network coverage).

Photo Processing Fulfilment
A variety of Photo Print Sizes can be printed instantly by using High Quality Environmentally Friendly Dye Sublimation Prints (unlike lab prints). Prints can be employed immediately in the assembly of drinks coasters, keyrings, fridge magnets etc. By prior arrangement, other special products can be made available.
System Insight owns and operates "the PhotoBus", which is available for hire in the UK and abroad; it comes complete with fully qualified staff, who are use to handling large events.
Corporate Branding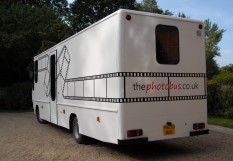 The PhotoBus is designed to be easily branded inside and out, with your own colour scheme; by default it is finished in a neutral black and white colour scheme.
Any Photo products produced, are also able to be specially watermarked or branded with your details or details of the event.
Our Experience
System Insight (est. 1991), are the UK's Number 1 Event Photography specialists, who provide equipment, training and solutions to Event Photographers throughout the UK and Europe. In Feburary 2007 we were called upon to provide a solution for the after show party at the Brit Awards; our solution used twelve wireless Nikon cameras, three Mitsubishi IT5000 systems connected to ten Mitsubishi CP9500DW-S printers enabling us to produce over 2,500 images in under four hours.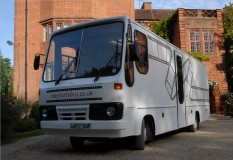 System Insight's experience and knowledge is unsurpassed within the industry and members of the team are often relied upon by major manufacturers to speak at conferences and exhibitions on the subject of Event Photography. System Insight supply a wide range of photo printing equipment from Mitsubishi, Citizen, Fuji, Hi-Touch, Kodak, Olympus and others...
The Event Insight Team
Our team consists of a core group of Event Photographers based in Southampton, plus over 100 specially trained photographers, who have all completed our comprehensive training course with Professional Photographer Mike Orr. This means we are often able to cover events throughout the UK and Europe at short notice, ensuring our clients get a truly professional service.
What we offer
We can provide a professional solution for the smallest event up to the very largest and with access to over 100 professional Event Photographers, who have been through our own training course, we can provide the total solution.
The Dye Sublimation process produces much more durable prints than a conventional inkjet or photo lab print and will last for years to come.
System Insight, which was established in 1991 and was awarded the "Buy with confidence" award from Hampshire Trading Standards.
If you would like more details on the sevices we can offer, then please contact us